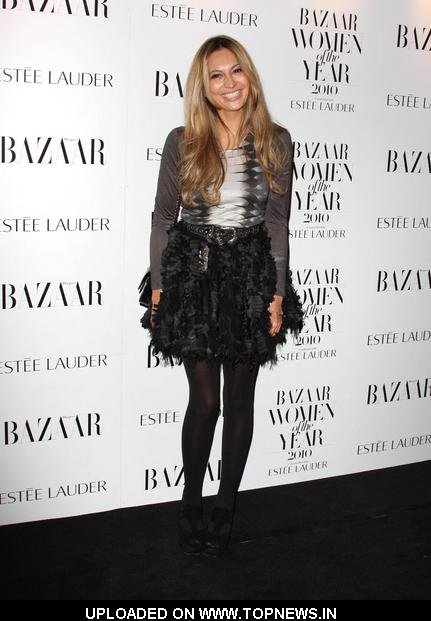 This british girl has got what it takes, the looks, personality and style oh and A BLOG! She is a well known TV presenter (MTV and such in the UK) and of course she is one of the stylish ladies of the moment with a blog under her name where she talks about fashion, art, and culture... The latest trend amongst IT GIRLS if you are not aware is to add on their extensive list of talents DJ!!!! As if blogger, designer, magazine contributor, writer, and model isn't enough now they must DJ... Let's talk about her style... Much like her ever-expanding resume, Martin's multifarious approach to dressing ranges from edgy, downtown ensembles to wonderfully feminine looks. In addition to her tough-meets-tender sensibilities, we have to admire her fondness for of-the-moment prints and interesting textures , and more importantly, her ability to mix the two with ease.
Labelled as Grazia Magazine's "one to watch", Zara Martin has already graced the glossy pages of Elle, Company, Look, Tatler and Marie Claire magazine. The model/presenter/journalist is the face of her newly launched fashion line - 'BodyAmr and Zara Martin' as well as Olivia Rubin and Mechante of London.
Ova Britanka ima sve što treba, dobar izgled, ličnost i stil, i da: BLOG! Poznata je kao voditeljka na MTV-ju i jedna od trenutno najstilizovanijih devojaka. Vodi blog pod svojim imenom, gde piše o modi, umetnosti i kulturnim dešavanjima. Poslednji trend medju trendi devojkama, ako niste znali, je da na svoju podugačku listu talenata dodaju DJ-isanje. Da pređemo na njen stil...Kao i njena bogata biografija koja se svakodnevno širi, tako i njen stil varira od edŽi ;) do prelepih ženstvenih kombinacija. Kao dodatak njenom 'opasna sam-ali istovremeno nežna' senzibilitetu, moramo da se divimo njenoj naklonjenosti trenutnim printovima i zanimljivim teksturama, i što je još važnije, njenoj sposobnosti da sa lakoćom spaja ta dva.
Etiketirana od strane Grazia magazina kao 'ona na koju treba obratiti pažnju', Zara Martin je već ukrasila naslovne strane časopisa Elle, Company, Look, Tatler i Marie Claire. Pored toga što je model, voditeljka, novinar, ova devojka je i zaštitno lice svoje sveže lansirane modne linije 'BodyAmr and Zara Martin' u saradnji sa kreatorkom Olivijom Rubin (znam...vino :D) i sajtom Mechante of London (Zlica iz Londona, da izvinete moj francuski ;)).